Diving With…. Cipooz Guadez, Atlantis Azores Liveaboard
In this ongoing series, we speak to the people who run dive centres, resorts and liveaboards from around the world about their businesses and the diving they have to offer…
What is your name?
Cipooz Guadez
What is the name of your business?
Atlantis Dive Resorts and Liveaboards
What is your role within the business?
Cruise Director at Atlantis Azores. I am responsible for all onboard hospitality and dive activities.
How long has the business operated for?
The Azores started life with Atlantis in January 2010, so we are ten years old.
How long have you dived for, and what qualification are you?
I first went diving in 1999 and really loved it. I then became an Instructor in 2014.
What is your favorite type of diving?
Muck Diving is my top pick, but drift diving and night diving are also my favorites.
If you could tell people one thing about your business (or maybe more!) to make them want to visit you, what would it be?
The People, the authentic Filipino hospitality and service, where guests go first before we do. Our experienced staff have been with us for decades and that makes you feel like a homecoming on your return. And, not to mention the diversity of reefs and Island culture; it's an authentic tropical island paradise experience.
What is your favorite dive in your location and why?
Our locations offer a variety of diverse underwater seascapes. From dynamic drop offs, flat reefs or slopes, and each place offers a different experience from great muck dives, schools of fish, to big stuff like whale shark and mantas. They are all my favorites.
What types of diving are available in your location?
I am lucky as we dive three separate itineraries through the year – so I get to dive most of the Philippines! Almost all types of diving are available, from reef dive, wreck, drift, night dive, from shore to boat dive, we love doing it…
What do you find most rewarding about your current role?
The best reward is getting paid to do what you love, meeting different people and connecting with them and sharing the passion of diving and lifestyle.
What is your favorite underwater creature?
I love the encounter of gentle giants like Mantas and Whalesharks but I always enjoy the small critters too, especially nudibranches.
Are there any exciting changes / developments coming up in the near future?
There is always a rainbow after the rain. I have always believed that every trial and tribulation that has come has a purpose. Coping and overcoming all of this makes us more driven and motivated to move forward. I am excited for the next chapter after this and will embrace it strongly.
As a center what is the biggest problem you face at the moment?
As our world is facing this health crisis, all are affected; normal life and businesses are interrupted.
Is your center involved in any environmental work?
Our center works with researchers and ocean advocates and is involved in helping and protecting our environment, especially our ocean.
How do you see the SCUBA / Freediving / snorkeling industry overall? What changes would you make?
I hope not much changes except being aware that this pandemic taught us a lot and we should better protect ourselves and others.
What would you say to our visitors to promote the diving you have to offer?
Our mother Earth is healing, and let's heal together with it. The ocean is our sanctuary, diving is one of our therapies.
We are ready and prepared to welcome you back with us.
Where can our visitors find out more about your business?
Website: www.atlantishotel.com/dumaguete-resort/
Facebook: @atlantisdiveresorts
Save on NEW Emperor Harmoni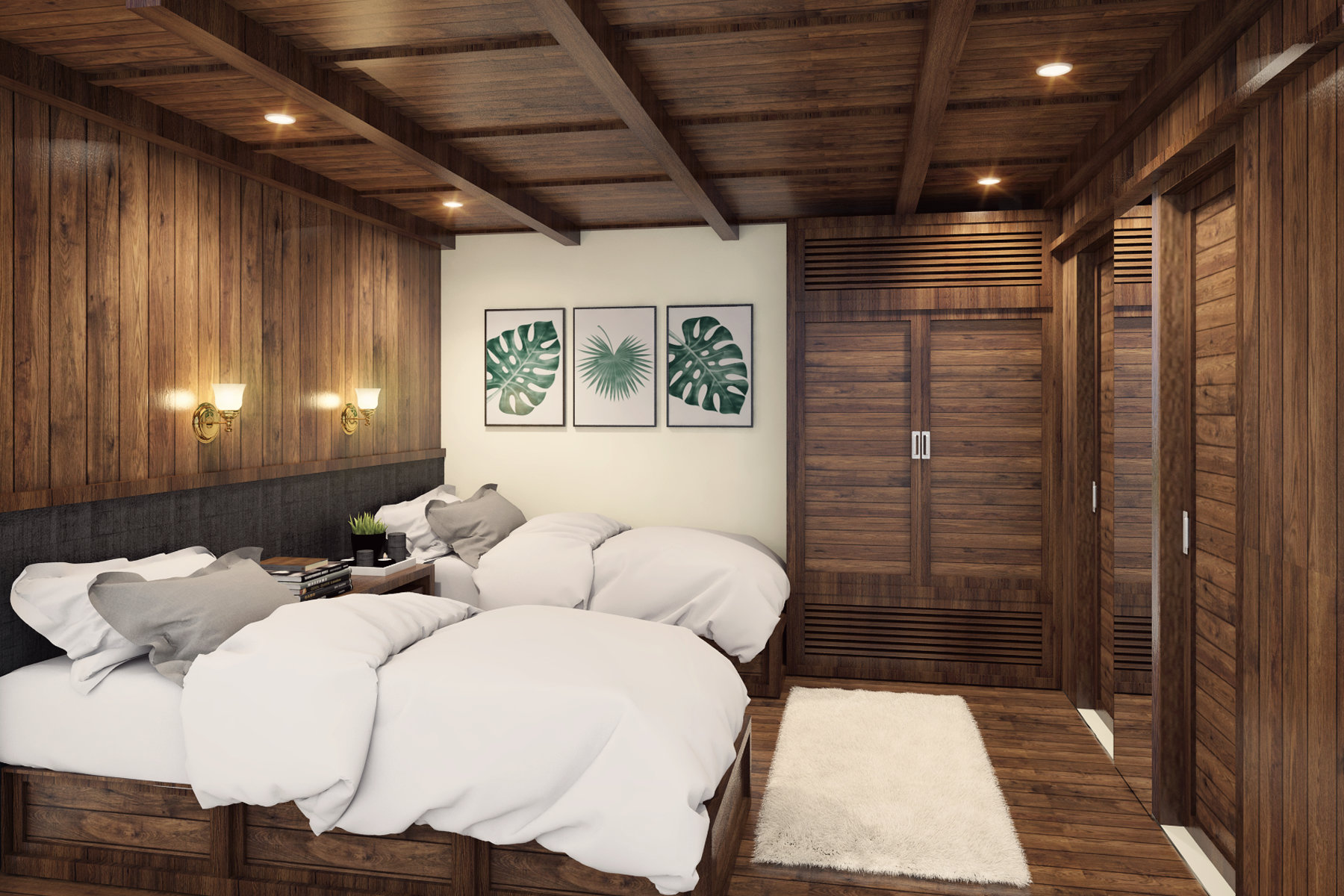 The launch of Emperor Harmoni – Emperor Divers' brand-new liveaboard in Indonesia – is just a few weeks away with the finishing touches currently taking place. And, to welcome her to their fleet, Emperor have put together an offer as magnificent as the boat herself.
Anyone booking a trip on Harmoni for 2022 or 2023 will receive a 25% discount if they book and confirm before October 1st 2022.
That means the first guests on board can not only explore and dive the Indonesian waters in the finest of style but do so at an incredible price. And sailing on Harmoni really is fine.
She is a 24-berth, traditional Indonesian phinisi-style vessel which has been bespoke made using a combination of Emperor's vast experience of liveaboards and the expertise of legendary Indonesian boat builder Pak Haji.
Constructed almost entirely by hand using Sulawesi ironwood, Harmoni has been designed specifically to offer the finest diving experiences possible in spacious surroundings of the very highest standard.
The beautifully-finished cabins all have en-suite bathrooms and air conditioning while the deck areas offer plenty of comfortable places to sit and maybe even enjoy a relaxing massage. The dining area is spacious and serves the high-quality food and drink you would expect from an Emperor Divers holiday.
The first trip leaves on September 16th and will cruise from Bali, taking in the wonderful scenery of Moyo Island, Sumbawa and Sangean Volcano before finally reaching Komodo National Park.
The offer is valid on new bookings only and discount is not to be combined with group free places or any other discount or promotion.
Email reservations@emperordivers.com to confirm pricing and availability or speak personally to the Emperor Divers' reservation team to find out more.
Reef-World launches Green Fins Japan!
The Reef-World Foundation, the Onna Village Diving Association, the local government, and Oceana are delighted to announce that Japan is now the 14th country globally to implement the Green Fins initiative – a UN Environment Programme initiative. Onna Village in Okinawa is the first Japanese tourist destination to adopt Green Fins environmental standards to reduce the threats associated with diving and snorkelling on the marine environment.
Green Fins is piloted in Onna Village, Okinawa prefecture, an area renowned for its marine sports and has been working to protect its reefs for many years. Green Fins is implemented as part of the national Sustainable Development Goals project, which aims to manage and illustrate to the local industry how sustainable tourism can play a role in reef conservation. The economic benefits of the reefs benefit not only the fisheries industry but also the tourism industry as it has rocketed in recent decades.
If the project is successful – proving the value of sustainable tourism – the model has the potential to be escalated to a national level. A wide rollout would allow Reef-World to focus on uptake and expansion into other marine tourism and biodiversity hotspots across Japan. Green Fins implementation in Japan would provide practical solutions to many of the common problems faced in the area. It would also help to promote high standards for diving in the country. Improving the quality of the diving industry through Green Fins would demonstrate the added value of Onna Village's tourism product. This, in turn, will encourage tourists to spend more time and money diving in the region.
Following a week of training by Reef-World (23 to 28 May 2022), Japan now has a national Green Fins team comprised of four fully certified Green Fins Assessors and two Green Fins Coordinators from Oceana and the local government. They will be responsible for recruiting, assessing, training and certifying dive and snorkel operators to become Green Fins members in the country. This involves providing training about the ecology and threats to coral reefs, simple and local everyday solutions to these threats and Green Fins' environmental standards to dive and snorkel operators. Green Fins membership will help marine tourism operators improve their sustainability and prove they are working hard to follow environmental best practices as a way of attracting eco-minded tourists.
James Harvey, Director at The Reef-World Foundation, said: "We are really excited to finally introduce Green Fins in Japan. We have been planning this for almost three years, but the travel restrictions related to the pandemic hindered progress. The diving industry in Okinawa and the marine life upon which it has been built is so unique, it must be preserved for generations to come. The Okinawa diving community is very passionate about protecting their marine environment, and Green Fins has given them an opportunity to collectively work to reduce their environmental impact and pursue exemplary environmental standards."
Diving and snorkelling related damage to sensitive marine ecosystems, including coral reefs, is becoming an increasingly significant issue. This damage makes them less likely to survive other local and wider stressors, such as overfishing or plastic debris and the effects of climate change. Based on robust individual assessments, the Green Fins initiative helps identify and mitigate these risks by providing environmental consultation and support to dive and snorkel operators. Through Green Fins implementation in Japan, Reef-World aims to reduce negative environmental impacts in the region by reaching 10 marine tourism operators, training 50 dive guides and raising awareness of sustainability best practices among 10,000 tourists in the first year.
Yuta Kawamoto, CEO of Oceana, said: "Green Fins will help to unify all the conservation efforts in Okinawa by applying the guidelines in many areas and raising tourists awareness. We hope this will increase the sustainable value in the diving industry and in turn increase the diving standards in the country."
Green Fins is a UN Environment Programme initiative, internationally coordinated by The Reef-World Foundation, which aims to protect and conserve coral reefs through environmentally friendly guidelines to promote a sustainable diving and snorkelling tourism industry. Green Fins provides the only internationally recognised environmental standards for the diving and snorkelling industry and has a robust assessment system to measure compliance.
To date, four dive operators in Onna Village have joined the global network of 600+ trained and assessed Green Fins members. These are: Benthos Divers, Okinawa Diving Center, Arch Angel and Pink Marlin Club. There has also been significant interest from other operators, even those that are not located in Onna Village, for Green Fins training and assessment.
Suika Tsumita from Oceana said: "Green Fins serve as an important tool for local diving communities to move towards a more sustainable use of their dive sites; so that they can maintain their scenic beauty and biological richness to provide livelihoods for many generations to come."
For more information, please visit www.reef-world.org or www.greenfins.net/countries/japan. Dive and snorkel operators interested in signing up for Green Fins can find the membership application form at: www.greenfins.net/how-to-join.
Dive and snorkel operators in Japan interested in signing up to be Green Fins members can contact the Green Fins Japan team at japan@greenfins.net.