On our recent trip to the Philippines we were invited to visit the famous, but controversial, Whalesharks of Oslob. In the past, we had heard some negative reports about this experience and so it was with some trepidation that we agreed to go. First, we chatted to the team at Magic Island Dive Resort about what to expect. They told us that they used to boycott this experience themselves, as they had witnessed bad practices and only in the last few years, with tighter regulations being imposed, have they been taking their divers back to Oslob. With this expert local knowledge reassuring us, we packed up our camera gear and set off.
So, what goes on here? Well, for many years (some say over 100 years), way before it was a tourist attraction, fishermen have been feeding the Whalesharks that approach their boats, to keep them away from the nets and causing damage as they try to suck the tiny fish or shrimp through the small holes. In recent times, when people heard you could get up close with the magnificent fish, this practice started to bring in tourists. Now, the fishermen and the local village, make their livelihoods by selling tickets to see the Whalesharks. Tourists flock to Oslob in their thousands to get the chance to see and swim with the biggest fish in the sea.
We had arranged to do a dive first, as Magic Island Dive Resort is an accredited dive centre for this experience, and they are one of only a handful that are allowed to go beneath the surface.  We geared up well outside the protected zone, as boats with engines are not allowed, so we shore-dived and swam towards the main attraction. Soon we were marvelling at the Whalesharks above us as they approached the boats to be fed. Our guide counted 12 Whalesharks, and they were mostly small to mid-sized juveniles. Sometimes the Whalesharks would dive deeper and come in to inspect us before returning to the surface. Our group of five divers and two guides were the only divers in the water, and we had an hour to spend underwater (one of the many rules of diving here). From below, you get a completely different view of this experience, and we were amazed at just how few people got into the water with the gentle giants.
To see what this experience is all about though, we also wanted to join one of the boats to snorkel with the Whalesharks, which is what the majority of people who come here do. At first glance, it looks too crowded and we were worried about what we might encounter. We got into our boat that was paddled out to the main feeding arena. You only get 30 minutes and so we were ready to get in as soon as our boat was in position. The number of boats out on the water, as well as the number of feeders, corresponds to the number of Whalesharks in the bay on that day. As there were 12 sharks, it seems that there were about 12 tourist boats too, so perhaps around 100 people every half an hour (from day break to lunchtime) going to see them.
We were very surprised to see that most people just watched from the boat, or got into the water, but held onto the boat, so there were only a handful of people in the open water. This made it a much more pleasurable experience than we were expecting. We were given very strict instructions on not approaching the sharks: we could not use strobes, we were not allowed to wear sun cream and we were told that getting too close would see us getting a red card and sent out of the water. We were delighted to see that, when one snorkeler broke these rules, he was sent out of the water immediately. The Whalesharks themselves were incredible, slowly approaching to be fed, sucking the tiny fish from the water just in front of us, sometimes horizontal, and sometime positioned vertically in the water to feed. It is amazing to see.
We had heard stories of Whalesharks that had terrible injuries from the boats hitting them, but the boats here do not use engines and the only injury we saw was the bottom of a tail missing, which is unlikely to have been a propeller injury. We had heard stories of tourists grabbing or even riding the sharks, but this was not our experience at all. We had heard that the sharks never leave, but they are free to come and go and most only stay a few days and then move on, with one individual out of the hundreds that have been recorded here staying for over 300 days, in a very rare case.
As with many shark-feeding programs, the worry is that we are changing the behaviour of these Whalesharks by the very act of feeding them. There is a research organisation called LAMAVE that are based in Oslob and their researchers are in the water every day. They have a database of Whaleshark IDs so that they can monitor which individuals are visiting the site and for how long.
Whalesharks are a migratory species that follow their food sources around the globe. LAMAVE have discovered that a handful of Whalesharks stay much longer than would be normal in this area and so their behaviour has changed. Most, though, stay for a short period of time and then move on. Of course, Whalesharks may also mistake other boats, not in this protected area, as potential food sources and therefore be more prone to propeller strikes in the future. We only did one snorkelling session and did not see any bad behaviour from the snorkellers, apart from one, who was swiftly dealt with, so we hope that this side of people's concerns have been reduced.
The local economy is now not based on fishing as it once was, but instead is based on showing tens of thousands of people these magnificent fish. There is a new school, hospital and infrastructure in the region, funded by the tourists that come here. We were delighted to see a boat of local school children pull up next to ours, and to observe their excitement at seeing Whalesharks for the first time, in the wild, was wonderful. The more people that fall in love with our seas, oceans and marine life, the more likely it is that they will protect it. Here, the Whalesharks are worth more alive than dead with their fins cut off; it is a trade-off that we can live with.
There is so much more we could write about this, but it will have to wait for another time. We were expecting our experience with the Whalesharks of Oslob to be a negative one, based on the stories we had heard, but in fact we came away having enjoyed it and we were re-assured that it is not a circus. This is not for everyone, that is for sure. It is not a wild encounter. We hope that the work of LAMAVE will continue to improve how the experience is run, so that the impact on the majestic Whalesharks is kept to a minimum, giving divers, tourists and locals alike a chance to see one of nature's gentle giants up close.
For more information please have a look at the following websites:
Scuba Diving in India: 5 Best Places to Visit Now
India doesn't get the attention it deserves for its scuba diving. With its white-sand beaches and tropical islands, this stunning country is on a par with some of the world's best-loved diving hotspots. There are isolated coral reefs, shipwrecks, pinnacles, remote atolls, and walls that host an eye-popping array of Indian Ocean marine life. With India recently opening its borders to fully vaccinated travelers, now is the time to explore this incredible destination before the rest of the world finds out.
Andaman and Nicobar Islands.
The Andaman Islands sit off the coast of India in the Bay of Bengal, surrounded by bright blue waters and fringed with isolated coral reefs. It is a tropical paradise destination with thriving mangroves that support diverse marine life and extraordinary birdlife.
Many of these beautiful islands are inhabited by the Andamanese, an indigenous group of people whose privacy is paramount, meaning you cannot visit all of the islands. Some of the Andamanese tribes, such as the Sentinelese, have had little to no contact with the outside world for many years.
Havelock Island and Neil Island are two of the most exceptional diving spots in the Andaman Islands and are regularly rated as two of the best places for scuba diving in India.
Havelock has excellent macro diving, whilst Neil Island offers pristine coral reefs and fewer divers. Together they host some of the best marine life that the northern Indian Ocean has to offer.
When to go: November to April.
---
Goa
Sitting on the west coast of India by the Arabian Sea, Goa is known for its long stretches of golden sands and lively nightlife. But if you step back from the bustling bars, you will find picturesque dive sites and a destination rich in culture and history.
Grande Island is a hotspot for water sports and is one of Goa's best dive locations. There are dive sites for every level of diver at this must-visit island, plus some of Goa's famous shipwrecks.
As an important trading port for centuries, Goa has around 100 shipwrecks off its shores, which have become thriving artificial reefs. As well as wrecks galore, Goa also has shallow coral gardens and striking pinnacles that attract tourists to Goa scuba diving every year.
When to go: October to May.
---
Puducherry
Puducherry's crystal-clear waters are enough to attract any keen diver to explore this well-known French colonial settlement and the surrounding area.
Above water, Puducherry is a quaint destination with a French Quarter of bougainvillea-lined streets, colorful colonial villas, and sophisticated boutiques.
Below water is equally as eye-catching, with a huge range of diving opportunities along Puducherry's vast coastline. There are unexplored coral reefs and shipwrecks, plus famous dive sites such as Coral Sharks Reef – a great novice dive site with plenty of reef sharks.
Go in search of sea snakes at Aravind Wall, one of the most famous dive sites in India, explore popular Four Corners, or head into the deep, dark depths at The Hole.
When to go: February to April, September to November.
---
Netrani Island, Karnataka.
Netrani Island (Pigeon Island) is one of India's best-known dive spots and sits off the famous temple town of Murdeshwar. Shaped like a heart, it is also known as 'the heart of India's diving' and offers world-class diving with excellent conditions.
There are rarely any currents at Netrani's dive sites, making it an ideal destination for Open Water Divers and novices who want to learn to dive.
Most of the diving is done from boats, taking you to explore diverse coral landscapes bursting with colorful marine life. Keep an eye on the blue when you dive there, as whales sometimes visit this special island.
When to go: October to May.
---
Lakshadweep
Lakshadweep, an archipelago off Kerala, has 36 atolls and coral reefs, with lagoons full of life and pristine reefs. Whilst you cannot visit all of the islands, those that you can visit make it a fantastic place to dive. And when you've had your fill of diving, you can explore Kerala's famous tea plantations.
Whichever islands you choose, the clear blue waters of Lakshadweep have a seemingly endless list of marine life highlights, including sharks and sea turtles.
Bangaram Atoll is entirely surrounded by coral reefs and the continuous nature of the reef makes it one of the most interesting places to dive at Lakshadweep. As well as gorgeous corals, Bangaram hosts Princess Royal, a famous 200-year-old shipwreck.
Kadmat Island, or Cardamom Island, is all about turquoise waters, white sand beaches and encounters with numerous sea turtles. With healthy seagrass beds and coral reefs to dive, it is a mecca for marine life. Make sure you leave time to visit this impossibly idyllic island.
When to go: October to May.
---
Who is diving in India suitable for?
With over 8000 kilometers of coastline, India has a broad range of dive destinations to suit every dive experience level. There are plenty of easy-going dive sites for novices, plus adventurous dives for experienced divers.
What marine life will you see when diving in India?
Sitting in the Indian Ocean, India's dive sites host a huge variety of life, including abundant tropical reef fish, lion fish, moray eels and prized critters. Sea turtles are regularly spotted cruising the reefs and nest at many of India's islands. Manta rays, whales and dolphins are also seen in India's waters.
---
Kathryn Curzon, a shark conservationist and dive travel writer for Scuba Schools International (SSI), wrote this article.
Critter Diving in Dumaguete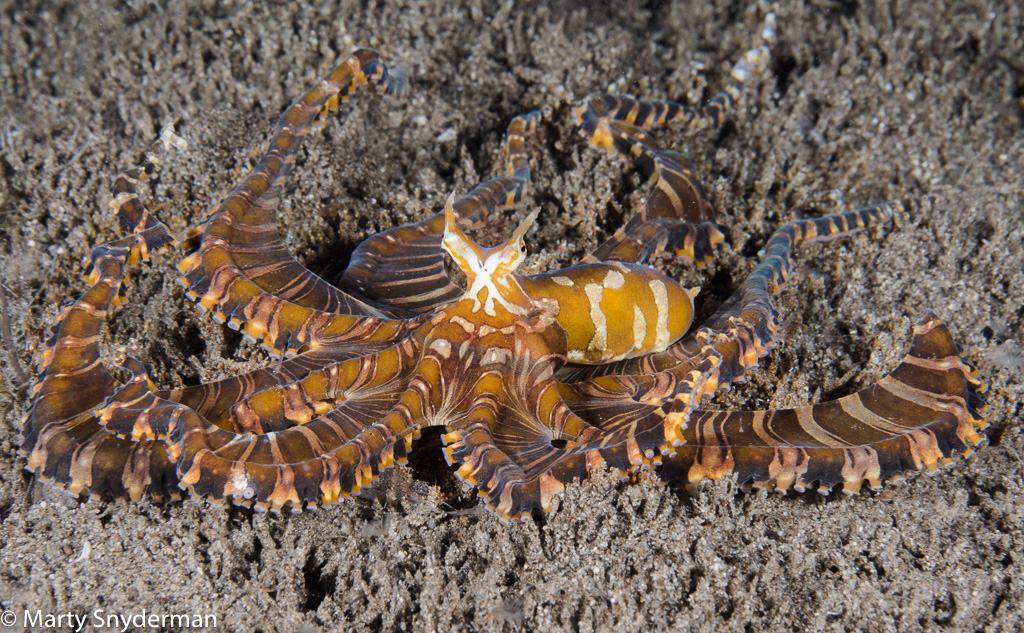 Words and Images by Marty Snyderman
While the term "muck diving" is one that would probably not pass a smell test with the marketing gurus on Madison Avenue, experienced muck divers know exploring the muck to be a featured attraction of diving in the water surrounding our resorts at both Atlantis Puerto Galera and Atlantis Dumaguete.
If you are new to diving or simply have not yet enjoyed the opportunity to muck dive, you might not be familiar with the term muck diving. Don't let your lack of familiarity or the name turn you away. The term muck diving was first used to describe exploring areas where the bottom consists of black sand, mud and silt in sites that are often influenced by some current flow and a source of freshwater. Over the years the definition has expanded, and today the term muck diving is often used to describe dives over almost any area that has a soft bottom as well as dives around structures such as a pier or dock where the pilings along with discarded tires, bottles and other man-made objects combine to provide habitat and hiding places for all kinds of creatures.
But it is not just the nature of the sea floor or number of species that one might see that has made muck diving so popular. It is the fact that many of the encountered creatures are so bizarre, amazing, different, and well adapted for their life style and their chosen habitat that they routinely leave divers in awe of what Mother Nature has to share. Creatures such as ornate, robust, and halimeda ghostpipefishes, shrimpgobies and their partner shrimps, strange-looking scorpionfishes, sea moths, skeleton shrimp, decorator crabs, stargazers, gurnards, frogfishes, cuttlefishes, seahorses, octopuses, and snake eels are daily fare in muck sites.
In many muck diving areas, the bottom is not completely barren. Small patch reefs and anemones in the sand provide refuge for additional species of fishes, crabs, shrimps, lobsters, and squids etc. In short, muck diving can be crazy good!
The Muck Diving Experience
For many divers the first time they look around after entering the water at some highly acclaimed muck diving site, their heart sinks as the surroundings do not bring the term beauty to mind. Drab is usually more like it, and upon first consideration most muck diving sites look boring. But you'll be selling muck diving short if you judge this book by its cover. Just trust those that brought you to the site and go see what there is to see. Odds are you'll be absolutely amazed.
Muck Diving Technique
In many muck sites it is extremely easy to stir up the bottom and reduce the visibility with a single kick of a fin or the loss of buoyancy that causes a diver to crash into the sea floor. It is best to keep kicking and all other movements to an absolute minimum, and to achieve and maintain neutral buoyancy.
After that, it is "get low, go slow, be curious, and look closely" as you scour the bottom and any structure whether a soft coral, sponge, or debris such as a dead leaf or piece of driftwood on the sea floor. Take two looks at the slightest aberration. See something that looks just slightly different than its surroundings, and the odds are that you will be looking at some mind-blowing animal.
Be patient with yourself as you learn "how to look". Divers that are new to muck diving almost always swim past subject after subject without spotting them during their first several muck dives. And they are almost universally amazed by the animals their dive guides spot. It is like the guides and new divers are diving in different oceans.
The key to the guides' success is that they know where, how to look, and who they are looking for. Of course, gaining that expertise takes time. No doubt, their experience is a huge help. When you ask them how they do what they do, they are usually quick to tell you they "get low, go slow, remain curious, and look closely".  And I'll throw in a "have fun and allow yourself to be amazed by Mother Nature".
---
Visit www.atlantishotel.com to find out more!