Thailand Twin Centre: Part One
7 years on from my last visit to Thailand and specifically Phuket, I find myself back here in a place that has so many memories for me. I visited back in 2010 and then again in 2012 with my girlfriend and had an amazing time exploring a country full of culture and adventure. Now I am back again to explore the underwater world around Phuket and the Similan Islands.
We are on a two week dive itinerary organised by The Scuba Place taking in some land-based diving and a liveaboard. Week 1 has seen us based in Kata Beach, Phuket and diving with Sea Fun Divers to the sites popular with divers who visit the area. Sites such as the King Cruiser Wreck, where we unfortunately got zero visibility but I got the sense in good vis it would be an amazing site, Shark Point and Koh Doc Mai. With sites also in Phi Phi National Park, Racha Yai and Racha Noi islands it was an enjoyable 5 days of boat diving. A delicious lunch, soft drinks and water were all included in the package adding to the experience creating a great day out on the water.
The visibility ranged from site to site, with crystal clear waters at the majority of sites but we were also hit with some interesting visibility at others. One site even treated us to the full spectrum of vis as we had a few metres visibility at most down at around 18 metres but as we came up the vis improved to around 30 metres.
Even when the vis wasn't great it didn't stop us from all getting a glimpse of some amazing marine life throughout the 5 days. The schools of snapper were a real treat on most sites and in particular in Phi Phi National Park as they engulfed the pinnacles and would slowly part as you drifted through them.
Black tip reef sharks, turtles, frogfish, cuttlefish and stingrays were some of the exotic marine life that the group encountered on a more infrequent basis. Whereas stonefish, scorpionfish and sea snakes were an abundant part of the diving wherever we went and were seen on most dives during the trip. Seeing some of the extraordinary gorgonian fan corals in great sizes was a real treat for me personally.
There is certainly a lot more to Phuket than diving as there is an array of tours on offer from land to sea. With a full day free before our trip on the liveaboard we chose not to rest but to organise a trip with John Gray's Sea Canoe. Our trip took us back on the water but not under it as we went out to Phang-Nga Bay to explore the amazing marine geology on offer at this natural wonder. We squeezed under caves as we lay on the canoes to avoid the low ceilings that then opened up into stunning lagoons called Hongs (Thai for Rooms).
Between the group a wide range of wildlife was spotted as we saw a family of macaques, water monitor lizard, kingfisher, mudskippers, brahminy kites, and a hornbill even gave us a fleeting glimpse as it flew overhead. We then finished up the day making a flower "Kratong" and heading out as the sun set to light a candle and watch it float in the water. We also had the treat of witnessing bioluminescent plankton sparkle like stars as you waved your hand through the water. The trip was a great day out and an alternative to being underwater that was topped off by being served a delicious lunch and dinner onboard. John Gray himself was even present on the tour and it was great to see him gathering rubbish along the way as he paddled along. Any tour where the owner is conscious about pollution on the ocean gets my vote.
All in all the first week on this two week itinerary has been great with all the group having an amazing time. The food in the restaurants has been extremely tasteful, whether its been authentic Thai or enjoying an alternative, more western-style, dish. A night on Bangla Road in Patong was an enjoyable change from quieter Kata Beach. As the night draws in, it becomes a walking street full of bars and life. The live music in some of the bars is amazing with very talented musicians on show. But now it's time to head out on the liveaboard and fingers crossed for some amazing diving in the Similan Islands.
Sean's trip is organised by The Scuba Place. For more information and to book call +44 (0)207 644 8252, email reservations@thescubaplace.co.uk or visit www.comedivewithus.co.uk.
Scuba Diving in India: 5 Best Places to Visit Now
India doesn't get the attention it deserves for its scuba diving. With its white-sand beaches and tropical islands, this stunning country is on a par with some of the world's best-loved diving hotspots. There are isolated coral reefs, shipwrecks, pinnacles, remote atolls, and walls that host an eye-popping array of Indian Ocean marine life. With India recently opening its borders to fully vaccinated travelers, now is the time to explore this incredible destination before the rest of the world finds out.
Andaman and Nicobar Islands.
The Andaman Islands sit off the coast of India in the Bay of Bengal, surrounded by bright blue waters and fringed with isolated coral reefs. It is a tropical paradise destination with thriving mangroves that support diverse marine life and extraordinary birdlife.
Many of these beautiful islands are inhabited by the Andamanese, an indigenous group of people whose privacy is paramount, meaning you cannot visit all of the islands. Some of the Andamanese tribes, such as the Sentinelese, have had little to no contact with the outside world for many years.
Havelock Island and Neil Island are two of the most exceptional diving spots in the Andaman Islands and are regularly rated as two of the best places for scuba diving in India.
Havelock has excellent macro diving, whilst Neil Island offers pristine coral reefs and fewer divers. Together they host some of the best marine life that the northern Indian Ocean has to offer.
When to go: November to April.
---
Goa
Sitting on the west coast of India by the Arabian Sea, Goa is known for its long stretches of golden sands and lively nightlife. But if you step back from the bustling bars, you will find picturesque dive sites and a destination rich in culture and history.
Grande Island is a hotspot for water sports and is one of Goa's best dive locations. There are dive sites for every level of diver at this must-visit island, plus some of Goa's famous shipwrecks.
As an important trading port for centuries, Goa has around 100 shipwrecks off its shores, which have become thriving artificial reefs. As well as wrecks galore, Goa also has shallow coral gardens and striking pinnacles that attract tourists to Goa scuba diving every year.
When to go: October to May.
---
Puducherry
Puducherry's crystal-clear waters are enough to attract any keen diver to explore this well-known French colonial settlement and the surrounding area.
Above water, Puducherry is a quaint destination with a French Quarter of bougainvillea-lined streets, colorful colonial villas, and sophisticated boutiques.
Below water is equally as eye-catching, with a huge range of diving opportunities along Puducherry's vast coastline. There are unexplored coral reefs and shipwrecks, plus famous dive sites such as Coral Sharks Reef – a great novice dive site with plenty of reef sharks.
Go in search of sea snakes at Aravind Wall, one of the most famous dive sites in India, explore popular Four Corners, or head into the deep, dark depths at The Hole.
When to go: February to April, September to November.
---
Netrani Island, Karnataka.
Netrani Island (Pigeon Island) is one of India's best-known dive spots and sits off the famous temple town of Murdeshwar. Shaped like a heart, it is also known as 'the heart of India's diving' and offers world-class diving with excellent conditions.
There are rarely any currents at Netrani's dive sites, making it an ideal destination for Open Water Divers and novices who want to learn to dive.
Most of the diving is done from boats, taking you to explore diverse coral landscapes bursting with colorful marine life. Keep an eye on the blue when you dive there, as whales sometimes visit this special island.
When to go: October to May.
---
Lakshadweep
Lakshadweep, an archipelago off Kerala, has 36 atolls and coral reefs, with lagoons full of life and pristine reefs. Whilst you cannot visit all of the islands, those that you can visit make it a fantastic place to dive. And when you've had your fill of diving, you can explore Kerala's famous tea plantations.
Whichever islands you choose, the clear blue waters of Lakshadweep have a seemingly endless list of marine life highlights, including sharks and sea turtles.
Bangaram Atoll is entirely surrounded by coral reefs and the continuous nature of the reef makes it one of the most interesting places to dive at Lakshadweep. As well as gorgeous corals, Bangaram hosts Princess Royal, a famous 200-year-old shipwreck.
Kadmat Island, or Cardamom Island, is all about turquoise waters, white sand beaches and encounters with numerous sea turtles. With healthy seagrass beds and coral reefs to dive, it is a mecca for marine life. Make sure you leave time to visit this impossibly idyllic island.
When to go: October to May.
---
Who is diving in India suitable for?
With over 8000 kilometers of coastline, India has a broad range of dive destinations to suit every dive experience level. There are plenty of easy-going dive sites for novices, plus adventurous dives for experienced divers.
What marine life will you see when diving in India?
Sitting in the Indian Ocean, India's dive sites host a huge variety of life, including abundant tropical reef fish, lion fish, moray eels and prized critters. Sea turtles are regularly spotted cruising the reefs and nest at many of India's islands. Manta rays, whales and dolphins are also seen in India's waters.
---
Kathryn Curzon, a shark conservationist and dive travel writer for Scuba Schools International (SSI), wrote this article.
Critter Diving in Dumaguete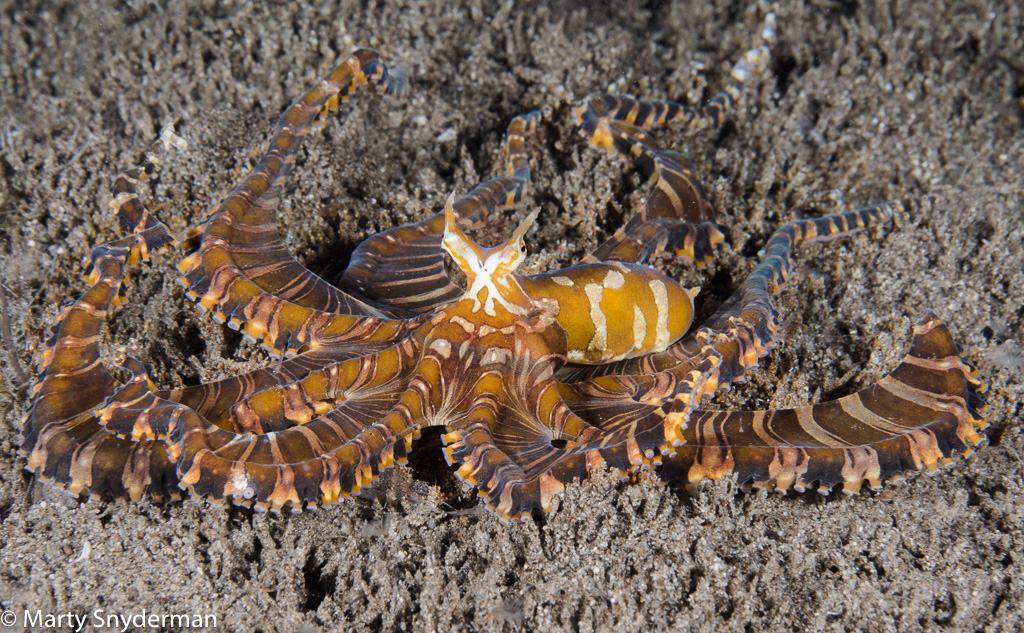 Words and Images by Marty Snyderman
While the term "muck diving" is one that would probably not pass a smell test with the marketing gurus on Madison Avenue, experienced muck divers know exploring the muck to be a featured attraction of diving in the water surrounding our resorts at both Atlantis Puerto Galera and Atlantis Dumaguete.
If you are new to diving or simply have not yet enjoyed the opportunity to muck dive, you might not be familiar with the term muck diving. Don't let your lack of familiarity or the name turn you away. The term muck diving was first used to describe exploring areas where the bottom consists of black sand, mud and silt in sites that are often influenced by some current flow and a source of freshwater. Over the years the definition has expanded, and today the term muck diving is often used to describe dives over almost any area that has a soft bottom as well as dives around structures such as a pier or dock where the pilings along with discarded tires, bottles and other man-made objects combine to provide habitat and hiding places for all kinds of creatures.
But it is not just the nature of the sea floor or number of species that one might see that has made muck diving so popular. It is the fact that many of the encountered creatures are so bizarre, amazing, different, and well adapted for their life style and their chosen habitat that they routinely leave divers in awe of what Mother Nature has to share. Creatures such as ornate, robust, and halimeda ghostpipefishes, shrimpgobies and their partner shrimps, strange-looking scorpionfishes, sea moths, skeleton shrimp, decorator crabs, stargazers, gurnards, frogfishes, cuttlefishes, seahorses, octopuses, and snake eels are daily fare in muck sites.
In many muck diving areas, the bottom is not completely barren. Small patch reefs and anemones in the sand provide refuge for additional species of fishes, crabs, shrimps, lobsters, and squids etc. In short, muck diving can be crazy good!
The Muck Diving Experience
For many divers the first time they look around after entering the water at some highly acclaimed muck diving site, their heart sinks as the surroundings do not bring the term beauty to mind. Drab is usually more like it, and upon first consideration most muck diving sites look boring. But you'll be selling muck diving short if you judge this book by its cover. Just trust those that brought you to the site and go see what there is to see. Odds are you'll be absolutely amazed.
Muck Diving Technique
In many muck sites it is extremely easy to stir up the bottom and reduce the visibility with a single kick of a fin or the loss of buoyancy that causes a diver to crash into the sea floor. It is best to keep kicking and all other movements to an absolute minimum, and to achieve and maintain neutral buoyancy.
After that, it is "get low, go slow, be curious, and look closely" as you scour the bottom and any structure whether a soft coral, sponge, or debris such as a dead leaf or piece of driftwood on the sea floor. Take two looks at the slightest aberration. See something that looks just slightly different than its surroundings, and the odds are that you will be looking at some mind-blowing animal.
Be patient with yourself as you learn "how to look". Divers that are new to muck diving almost always swim past subject after subject without spotting them during their first several muck dives. And they are almost universally amazed by the animals their dive guides spot. It is like the guides and new divers are diving in different oceans.
The key to the guides' success is that they know where, how to look, and who they are looking for. Of course, gaining that expertise takes time. No doubt, their experience is a huge help. When you ask them how they do what they do, they are usually quick to tell you they "get low, go slow, remain curious, and look closely".  And I'll throw in a "have fun and allow yourself to be amazed by Mother Nature".
---
Visit www.atlantishotel.com to find out more!