Emperor Divers' Sale: BOGOHP and up to 25% off selected sailings
Summer is nearly here in the Northern Hemisphere and a lot of people will be enjoying trips in their own countries for a few months yet, but many divers cannot wait to get back to warm, clear, tropical waters. Staycations are fun, but for divers nothing beats the feeling of submersing yourself on the reefs, walls and channels of the tropics surrounded by pelagics and fish of every size and colour.
With a backlog of rescheduled bookings from 2020, a lot of Emperor Divers' summer and autumn 2021 trips are full, but to help divers get a trip locked in they are offering some Buy One Get One Half Price on remaining trips for 2021, 2022 and even 2023! No buddy to travel with? No problem; they can offer up to 25% off the price on the same selected trips! With a low deposit of 10% and flexible cancellation terms for anything pandemic related, divers can book with confidence and relax knowing they have a fantastic warm-water dive trip to look forward to at an equally fantastic price.
Visit https://www.emperordivers.com/blog/2021/06/june-2021-offers.html for more details and an online list of the below sailings. For more details or to book, email info@emperordivers.com.
---
RED SEA 2021
22/07, 02/09 & 16/09 Echo – Red Sea Sharks – was €1239, BOGOHP or SAVE 20% / €250, Now €989
16/09 Asmaa – Simply the Best – was €1249, BOGOHP or SAVE 20% / €250, Now €999
02/12, 09/12 & 16/12 Echo – South & St Johns – was €949, BOGOHP or SAVE 25% / €240, Now €709
17/12 Superior – Reefs & Wrecks – was €999, BOGOHP or SAVE 25% / €250, Now €749
23/12 & 30/12 Echo – South & St Johns – was €1179, BOGOHP or SAVE 25% / €300, Now €879
24/12 & 31/12 Superior – Reefs & Wrecks – was €1229, BOGOHP or SAVE 25% / €300, Now €929
RED SEA 2022
06/01, 13/01, 20/01 & 28/01 Echo – South & St Johns – was €949, BOGOHP or SAVE 25% / €240, Now €709
04/02, 11/02 & 18/02 Asmaa – Reefs & Wrecks – was €899, BOGOHP or SAVE 20% / €180, Now €719
MALDIVES 2021
05/06 & 12/06 Leo – Best of Maldives – was €1629, BOGOHP or SAVE 25% / €400, Now €1229
10/06, 03/07, 10/07, 24/07 & 31/07 Voyager – Best of Maldives – was €1479, BOGOHP or SAVE 25% / €369, Now €1110
15/08 & 26/09 Explorer – Best of Maldives – was €1979, BOGOHP or SAVE 25% / €494 , Now €1485
22/08, 29/08, 12/09 Serenity – Best of Maldives – was €1829, BOGOHP or SAVE 25% / €459 , Now €1370
19/12 Explorer – Best of Maldives 10 nights – was €3069, BOGOHP or SAVE 25% / €769 , Now €2300
19/12 & 26/12 Atoll – Best of Maldives – was €1799, BOGOHP or SAVE 25% / €449, Now €1349
25/12 Leo – Best of Maldives – was €1949, BOGOHP or SAVE 25% / €489 , Now €1460
MALDIVES 2022
02/01 Atoll – Best of Maldives – was €1695, BOGOHP or SAVE 25% / €420 , Now €1275
02/01 & 26/01 Serenity – Deep South & Southern Sharks 14 nights – was €4795, BOGOHP or SAVE 20% / €960, Now €3835
08/01 Leo – Deep South & Southern Sharks 14 nights – was €3795, BOGOHP or SAVE 20% / €760, Now €3035
09/01, 16/01 & 23/01 Atoll – Best of Maldives – was €1695, BOGOHP or SAVE 20% / €340 , Now €1355
01/05, 08/05, 15/05 & 22/05 Serenity – Best of Maldives – was €1995, BOGOHP or SAVE 25% / €500, Now €1495
INDONESIA 2022
25/09 Harmoni – Komodo & Maumere 9 nights – was €4860, BOGOHP or SAVE 20% / €970, Now €3890
19/12 Harmoni – Best of Raja Ampat 9 nights – was €4860, BOGOHP or SAVE 20% / €970, Now €3890
INDONESIA 2023
10/01 & 19/01 Harmoni – Best of Raja Ampat 7 nights – was €3780, BOGOHP or SAVE 25% / €945, Now €2835
28/01 & 08/02 Harmoni – Best of Raja Ampat 9 nights – was €4860, BOGOHP or SAVE 20% / €970, Now €3890
03/05/, 10/05, 17/05 & 24/05 Harmoni – Bali & Komodo 7 nights – was €3640, BOGOHP or SAVE 25% / €910, Now €2730
---
Offer Terms
Offers apply to a limited number of places per sailing and may be removed at short notice. Not applicable with any other offer or discount.
Applicable on new bookings only with immediate effect. Normal payment terms & conditions apply.
Philippines Fun-Size: Critters and macro life
Guest Blog By Cath Bates
Instructor and Sales Consultant Cath, from Dive Worldwide, gives a rundown of some of the top areas for macro life in the Visayas region of the Philippines.
The volcanic and tectonic activity around the western Pacific Ocean has formed a nutrient-rich environment for some of the strangest marine critters to call their homes.
The Visayas region is within the central part of the Philippines – a colony of islands that are very easy to get around, with Luzon and Mindoro to the North, and Mindanao to the South. Although many divers rave about this being Big Fish Country (thanks to the thresher sharks of Malapascua and the whale sharks of Oslob and Donsol), it is also a macro diver's paradise.
The diversity within this area of the Coral Triangle means that within a few days you can go from diving steep walls, being cushioned by sea grass beds, hovering over sandy plateaus, or getting lost amongst hard coral heads, to suddenly being cuddled by lush, fluffy coral colonies.
Pygmy Seahorses, Mandarin Fish and more in Bohol and Anda
Anda (on the eastern side of Bohol) has a coastline that is 15 kilometres of incredible biodiversity. Dive sites are between 5 and 45 minutes away from your resort house reef.  Seahorse Point and Pygmy House dive sites are home to Pygmy seahorses that balance delicately on their bendy sea fan hosts. No bigger than 2.7 centimetres in length, the pink Bargibanti and yellowish Denise are protected by the Pygmy Seahorse Code of Conduct, displayed in all good dive centres.
The island of Bohol also has nudibranchs on steroids and carpet flatworms patterned with psychedelia that would make even the most open-minded hippy have a weird trip! Night dives reveal sea pens, swimming crabs, sand eels and egg cowrie.
At dusk you can enjoy the Mandarin fish courtship dance.  This is a flamboyant event with two of the  most colourful fish in the sea, whose names come from the dress of the Imperial Chinese Mandarin. The female Mandarin fish is joined at the pelvic fin by a male that she has deemed worthy of her attention. At rocket speed, they swim from their rubble or staghorn coral habitat high up in the water column to release hundreds of eggs and sperm.
Out-of-this-world Shrimps, Crabs and Lobsters in Moalboal

The Tanon Strait connects the Visayan Sea to the Bohol Sea. This is where you will find the island of  Moalboal (meaning bubbling water). Best known for the dramatic drop offs of Pescador island and local sardine baitball, Moalboal also has a vast array of macro dive sites.
At Copton Point, Peacock mantis shrimps scuttle about, changing direction the way Austin Powers drives his luggage cart, and Kasai Wall's hairy orangutan crabs duck and dive in bubble anemone like they are in a child's ball pool. Masters of disguise, the crinoid shrimp and squat lobster cling motionless to their spikey homes, avoiding being dive-bombed by hungry reef fish.
At Fish Feeding (where they don't of course feed the fish) Tozuma shrimp and Xeno crabs adorn whip corals like bosses, and punkish candy crabs decorate themselves with broccoli coral hats.
Masters of camouflage in Dumaguete/Dauin
Negros Island has the Sulu Sea to the west and Cebu to the East. This is a mountainous province, and Negros Oriental's capital city Dumaguete is known as the "City of Gentle People". There is a narrow channel between it and the island of Cebu, as well as the deep Negros trench. Such topography can only mean good things for divers! The Dauin coastline boasts some of the best critter diving in the region.
At Secret Corner in octopus season (October to December) you can expect to see blue ring, Mototi, wonderpus and algae octopus crawling stealth-like over the sand. These are camouflage masters who occasionally flash colour and cut some textured shapes to warn or to decorate. You may even be lucky enough to witness mating within this period.
During Frogfish February you can see all the usual suspects like painted, hairy and sargassum as well as pin-head sized juveniles. The Atmosphere Resort and Spa house reef has a vibrant yellow guy who has even been filmed for television!
Shaun the Sheep is a loveable name given to the Costasiella kuroshimae sea slug. Not much bigger than a grain of sand, the likeness to a certain plasticine animation is uncanny. They graze on a leaf-like algae, containing chlorophyll, and are otherwise known as the "sap-sucking" sea slug because of this. Take a magnifying glass with you to catch a better glimpse of these cute creatures.
Colourful Critters in Malapascua
Famous for its larger "shoals", Malapascua also has some exquisite reefs and seamounts that are teeming with macro life. Along the white sandy coastline are hidden muck sites that many pelagic-lovers wouldn't even know were there. Even on the shipwrecks around Malapascua, you can find the world of the tiny: shrimp patrolling the holds, schooling glassfish shielding gangways and bright mauve Hypselodoris laying their egg skirts.
The pinnacle known as Bugtong Bato is home to various types of frogfish, nudis and carpet anemone, keeping crabs and anemone shrimp safe from the current.
Chocolate island, to the south-west in the Visayan Sea, is a popular night dive location where double-snouted spindle cowrie, flatworms and banded boxer shrimp clock in for the night shift on a background of pulsating soft corals.
Gato Island is a grassy seamount poking out of the sea 45 minutes north-west of Malapascua. The island is well known for its swim-throughs and overhangs where you can expect to find Pharaoh cuttlefish, thorny seahorse and broad-banded pipefish. It also sounds like a cake, which is a winning formula for most divers!
Diving holidays for macro, muck and critter lovers
Below are some inspirational trip ideas from the Dive Worldwide website for getting to the best macro meccas in the Philippines. Not all the dive sites are beautiful to the eye at first glance, like muck and rubble, but what lies within them are some of the most vibrant and fascinating creatures you ever did see!
Discover the Visayas
This popular itinerary includes dives in Malapascua, Monad Shoal and the Moalboal peninsula.
Visayas Liveaboard
Access some of the best diving locations in the Philippines by liveaboard, including Dauin, Balicasag, Pescador and Malapascua.
Island Hopping Dive Safari
A stress-free diving adventure exploring stunning islands in the Visayas. An excellent choice for viewing macro life and pelagics.
Magic Dive Experience
Experience the magic of the Philippines! This trip combines two dedicated dive resorts in the Visayas – expect superb reefs, turtles, and exceptional macro life.
Dive Into Luxury
A luxury island-hopping itinerary, spending five nights in two of the Visaya region's finest dive resorts – Atmosphere Resort & Spa and Amun Ini.
If you are interested in any of these trips, please get in touch with the friendly team of travel consultants and diving experts at Dive Worldwide or call 01962 302 087. You can also subscribe to Dive Worldwide's regular enewsletter.
Five best places to find Big Fish in the Philippines
Guest Blog by Phil North 
Divemaster Phil North, from Dive Worldwide shares his five best spots to find Big Fish in the Philippines. 
If diving with the ocean's giants is on your bucket list, the Philippines is the perfect destination. Whale sharks, striped barracudas, turtles, hammerheads, manta rays, dugongs, and even 2-metre-long Napoleon wrasse can be found here.
The Philippines is in the Coral Triangle – the most biodiverse coral reef on the planet – so its waters are bursting with marine life, including large pelagics, sponges, and over 2,500 species of fish.
So where should you visit to see the biggest and most exciting species? There are over 7,000 islands in the archipelago and several world-class diving sites to choose from, so read Dive Worldwide's guide to discover the best diving spots for big fish encounters in the Philippines.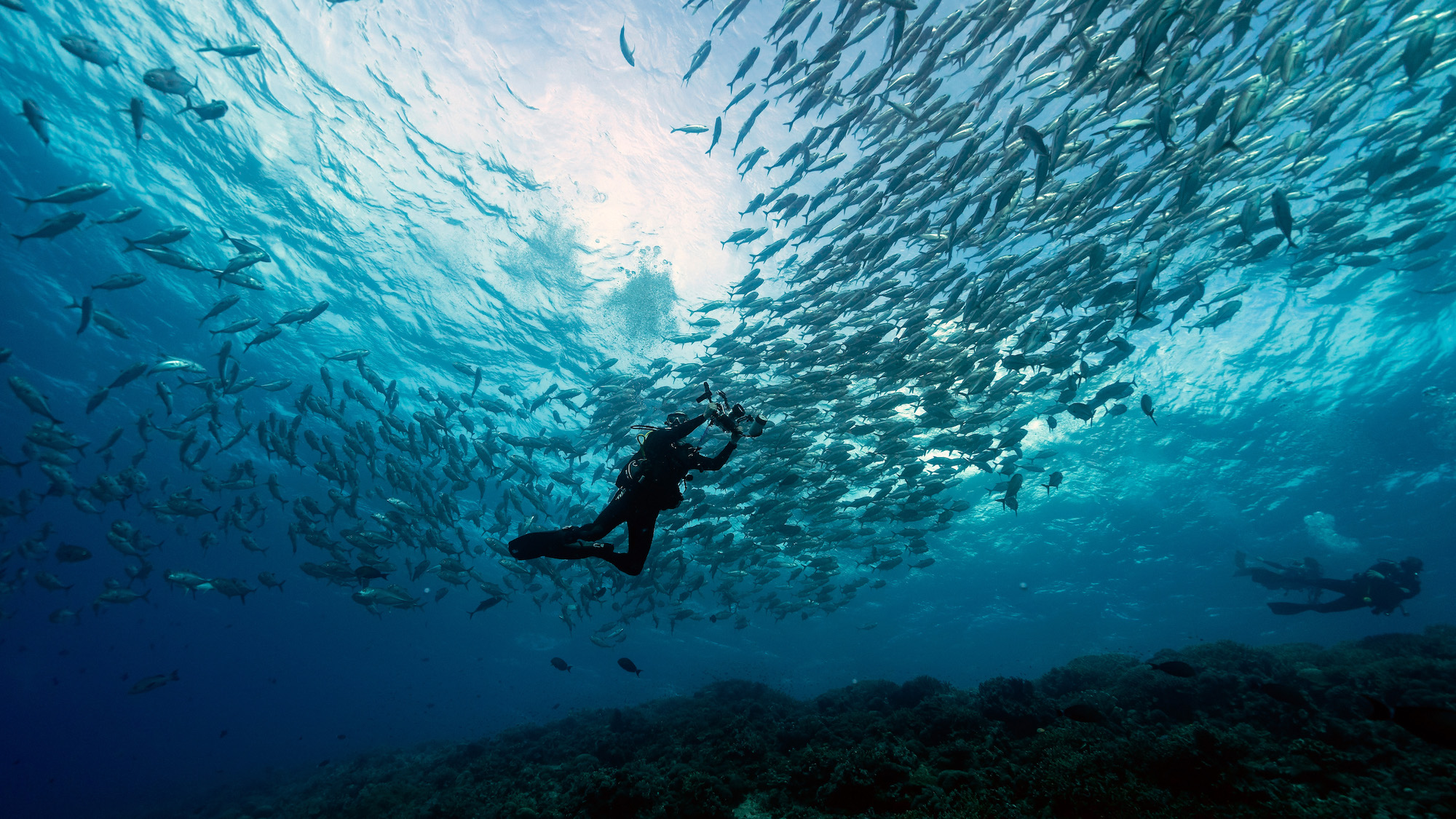 Outstanding marine biodiversity and reef sharks
If you're after an abundance of big fish, the UNESCO World Heritage Site of Tubbataha will not disappoint.
The dive season runs from March to June, with a chance to see a spectacular range of species, including tiger shark, hammerhead, leopard shark, grey reef shark, nurse shark, manta, marble and eagle ray, whale shark, barracuda, tuna, hawksbill and green turtle, and dolphins.
Tubbataha is the largest marine protected area in the Philippines and offers superb diving opportunities. It is located 150 kilometres from Palawan in the Sulu Sea, so you will need a liveaboard to access these world-class dive sites.
Recommended dive trip:
Tubbataha Liveaboard
When to go: April – June
Shark Encounters – rare thresher sharks
Shark enthusiasts will love this world-famous diving location.
Monad Shoal, also known as Shark Point, is the only place in the world where rare thresher sharks can be seen daily.
This iconic, but usually shy, species gets its name from the distinctive tail which it uses like a whip when hunting. Here, you can encounter thresher sharks as they are swimming around the cleaning stations in the shallow reefs. You may also find white-tip, black-tip, bamboo, and nurse sharks in these waters.
With beautiful coral gardens and white sands to rival Boracay, Malapascua is a popular destination for divers and holiday-makers alike.
Recommended dive trips:
Big Fish Tour
When to go: November – April (but possible all year)
Visayas Liveaboard
When to go: April – June
Sharks & Reefs
When to go: All year round
World's largest rays and fish
Bicol – Donsol and Ticao Island
These popular diving destinations are frequent haunts of the world's biggest ray and fish species – the oceanic manta ray and the whale shark.
The Manta Bowl dive site, in Ticao Pass, is famous for its manta ray population and for being one of the best diving sites in the Philippines.
Whale sharks migrate to Donsol between late November and May, which is the best time to enjoy close encounters. Although whale sharks can exceed 15 metres long, they are gentle giants that filter-feed on plankton, krill, and small plants.
Recommended trips:
Big Fish Tour
When to go: November – April (but possible all year)
Reef sharks, hammerheads and schools of pelagic fish
Apo Reef is one of the most celebrated dive sites in the Philippines and an excellent place to find sharks or other big pelagics. Hammerheads are one of the top attractions in these waters, but black and whitetip sharks, and even occasionally thresher sharks visit here. You can also expect to encounter other large species like groupers, tuna, eagle and manta rays, large trevally, turtles and, if you are lucky, dolphins.
Recommended trips:
Club Paradise Resort – offering daily dive trips to Apo Reef
When to go: anytime
Liveaboards
When to go: April – December
Barracuda, turtles and dugong
North of Palawan – Coron   
We know, not all these species are technically fish, but they are impressively large pelagics.
Dugong, also known as sea cows, were even thought to have inspired sailor's stories about mermaids! This near-mythical marine mammal is listed as a vulnerable species on the IUCN Red List, but you may be lucky enough to spot one on an eco-tourism dive in Coron.
At Barracuda Lake, you can look out for the legendary giant barracuda (though even the regular ones can be over a metre long). This is also a great location for viewing green and hawksbill turtles.
Recommended trips:
Dive Coron Bay on Sangat Island (also excellent for wreck diving)
When to go: October – June
Liveaboards
When to go: April – December
Top choice for big fish encounters:
Big Fish Tour
This underwater safari visits some of the best sites for whale shark, thresher shark, and manta ray encounters. The two-week tour includes up to 14 diverse and exciting dives, with stays at relaxing tropical beachfront resorts.
Find out more
Get in touch with the friendly Dive Worldwide team for first-hand advice on your next diving holiday to the Philippines. They offer a superb range of resort and liveaboard options. Visit the website, send an enquiry, or call the expert team on 01962 302087.